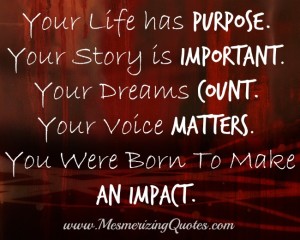 My prayer:
I am feeling a little a drift and confused tonight God. I am so grateful for the rest this weekend. I REALLY needed it. But now it has me wondering, where are we headed? Am I still on your path or has life gotten so crazy that I got off track?
Truly, I have just been trying to keep up lately. Putting one foot in front of the other and trying not to disappoint anyone or you too much. But, that is really a poor way to live.
Now that I have made it through that crazy time, I want to be sure I am on your best path for my life. I want to be sure that my life has purpose. I want to be sure I am available for what ever you would like for me to be doing. So, what is next?
What God Said Tonight:
What if my purpose for your life was to get through this last season, hanging on to me, trusting me to bring you through? If that was the purpose, how did you do?
Truth is, I can use anything, anywhere at any time in your life to fulfill my purpose and therefore fulfill your purpose. Your life, your experiences, your heart, your mind, they are all a part of your testimony. And, your testimony is what brings more of my children home to me.
Your testimony is your purpose. and, your testimony is all of your life, not just the parts that fit nicely into a scripture or bible study. I can use it all, the good the bad and the ugly. I especially like using the ugly. Those are the parts that really connect with my lost kids.
I love you sweet daughter, now and forever. Your purpose is broader than you realize. Just live, with me, that is enough.